Our Upcoming Races
Words to run by

"If it comes easy, if it doesn't require extraordinary effort, you're not pushing hard enough: It's supposed to hurt like hell." Dean Karnazes
SmartPacing Pace Teams
SmartPacers are an all star team of seasoned runners, specially trained to help you meet your goal. Line up with one of our free teams at the start and we will do our best to guide you to the finish on time, with a proven SmartPace strategy, good clock management, inspiration, coaching and a lot of fun. Their love of running and positive personalities will help to make the most of your half or full marathon.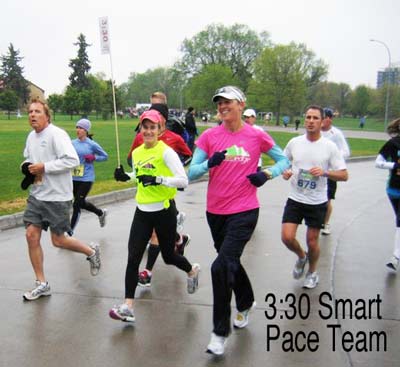 Our pacers are volunteers who are running with you because they know first-hand the the satisfaction that comes with finishing strong after you run a smart race.  Your smartpace team spirit will make the tough going fun.  Meet the pacers to learn a little about them and see their picture.
We've provided lots of material on this site to let you know exactly what to expect on race day, how to pick a goal time, and how you can train to take best advantage of our smartpacing teams. Be sure to read about our SmartPace pacing strategy - we don't run even splits because you probably don't either! Our pacers will be wearing SmartPace pace bands that match their strategy and the course - you can get a set too.
Use our SmartPace Pace Calculator to see the actual mile-by-mile splits we will plan to hit based on our pacing strategy.
Why do you call them SmartPace teams?
Warm up, settle in, finish strong:SmartPacing is running your race at an even effort, not an even pace. It allows for warming up properly & accounts for fade at the end of the race..
Many races feature pace teams, but we think ours are unqiue.  We like to think we run "smarter." Most pacers run an "even pace""– every mile is the same, whether it is a the first mile or the last, uphill or downhill. While others just run their own race and expect you to follow.  Our pacers run a proven "SmartPace" strategy that runs an even effort, not necessarily an even pace.  We take it easy on the ups and push the downs.  We also start out slow to allow your body to warm up.  You don't start at goal pace on a regular long run, why do something different on race day?   Read more about our SmartPace strategy here to learn why we start gradually.
Warm up, settle in, finish strong : SmartPacing is running your race at an even effort, not an even pace. It allows for warming up properly & accounts for fade at the end of the race.
Our teams are also special because we train them to know the difference between "racing" and "pacing".  You are "racing" – they are "pacing."  The focus their attention on you instead of themselves.  The first few miles, as your body works harder to warm up, we keep you from going out too fast and burning the energy you need later on.  They will coach you on what to expect from the course and from your body. And they have to be able to inspire you after you hit the wall.
If you run out of energy too early, the wall becomes reality. Our SmartPace teams are there to help you make the right decisions all through the race and increase your chance for success - from good tips on hydration, to where to push or let up the pace.  They will do the math when you can't and keep you focused on your goal when all you want to do is walk.  You can focus on running while we do the thinking.
Satisfaction: Over 98% would run with our teams again and 87% think we had a big impact on their race
Does it cost anything to join a SmartPace team?
Running with a pace team is FREE – we encourage you to take advantage of this major perk. There is no need to sign up ahead of time – you can join us on race morning. On race morning, look for us at the starting line and join the fun.  You can stop by the pacer booth at the race expo to meet pacers and ask any last minute questions.
Create a free Chase Chart to help friends and family find you on the course based on your finish time.
after you race, please come back and leave comments about your pacer, and complete a survey to help us improve.
SmartPacing is organized by The Runners's Edge in Kansas City and The Runners's Edge of the Rockies in Denver, with support from Races2Remember.com.