Our Upcoming Races
Words to run by

"Somewhere in the world someone is training when you are not. When you race him, he will win." Tom Fleming's Boston Marathon Training Motto
If you live in the Kansas City area, you can train with Runner's Edge. If you live in the Denver area, you can train with Runner's Edge of the Rockies.
If you're a race director who is interested in offering SmartPacers as a perk for your upcoming race, contact us.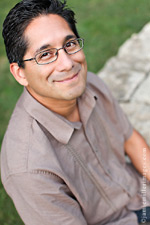 Coach Eladio Valdez III
As running coach and director of The Runner's Edge, Eladio has helped nearly 2,000 runners and walkers achieve their goals. During his 28 years as a runner, he has completed many 5k's to marathons, including the 100th Boston Marathon in 1996. His education includes Bachelor's Degrees in Exercise Science and Health Education at the University of Kansas. Being blessed to work out of the home, he enjoys spending time with his wife Myra and their 2 kids, Adelina and Alex.
Coach Valdez is has a book due out this fall: "SmartRacing," which will detail all the tools you need to conquer the finish line. He shares with you how to treat Race Day as the most important day
of your training. Most running books get you through the training, but leave out what to do (and not do) on the most important day. From accumulated wisdom from his pacers and his runners,
Coach Valdez gives tips you can use to finish strong, whether you finish a half in 1:25 or a full in 6:00. The book will be available at our SmartPacing website, at the Pacer Booth at the races we Pace, and through Garry Gribble Running Sports in the Kansas City Area.
Coach David Manthey
Take a strong sense of discipline, add an extensive business background, toss in a natural ability to motivate others, and you've got David Manthey. Melded together, these traits serve as an ideal combination in his role as head coach of The Runner's Edge of the Rockies. His background includes: ten years of extensive business development experience; University of Denver - Business Development, Career Coaching & Presentations; MG Jordan - Executive Recruiting Firm; Baker & Associates, Inc. - Merger and Acquisitions Intermediaries; Co-Founder/Coach, Runner's Edge of the Rockies group marathon-training program, 2003-Present; Road Runners Club of America, Certified Running Coach
Coach Manthey is an accomplished Marathoner/Ultramarathoner, having successfully completed 10 road Marathons and 9 Ultras including the 2004 Pikes Peak Marathon in 5:49, the 2007 Sunmart 50-Mile in 9:38, the 2010 Phoenix Rock n' Roll 50km in 4:40 and the 2010 Kettle Moraine 100km in 14:48.
Coach Manthey gives race tips on this YouTube video:
Create a free Chase Chart to help friends and family find you on the course based on your finish time.
after you race, please come back and leave comments about your pacer, and complete a survey to help us improve.
SmartPacing is organized by The Runners's Edge in Kansas City and The Runners's Edge of the Rockies in Denver, with support from Races2Remember.com.